Numbers are everywhere. Number of likes, how many followers, retweets, number of posts, what is attendance, giving… Sometimes, we can get lost in the sea of numbers.
Numbers are certainly important, and data is worth compiling. Research matters. Platform matters.
But, souls are important.
A friend emailed me recently, and shared she sometimes feels like she gets in a rut with her writing because she feels like she is saying the same things over and over.
I can totally relate.
It happens to me often. I wonder do I have to say the words 'childhood sexual abuse' one more time? Isn't it implied? Can't they assume that is what I am referring to? What if I just say broken childhood or trauma? Why don't I just write about something lighter? Something that more people can relate to? Something that is not such a taboo topic? Something that would be easy on the eyes and light on the heart? Something more popular?
I hear the gentle whisper, "Write for the One." And then, I remember being the one.

I will never forget the first time I went to a women's conference. I was 24 years old, and I remember the powerful worship and feeling the presence of the Lord in that place. One of the speakers came out on stage dressed in all white. She was gorgeous and she looked like an angel. There was a glow around her as she spoke. It was the first time I had ever heard any adult admit to being sexually abused as a child.
She said the words. "I was sexually abused as a child."
She described what had happened to her and what her life had been like because of it. She shared some choices that she had made and regretted. She now spoke with hope and great faith.
I was 'the one' sitting in the building who needed to hear those words.
Something shifted in me that day that gave me hope, even though the loud voices in my head assured me that the healing she had experienced could never happen with me. I had a lot of questions. How do you even say "me too" when you have never told anyone? How did she go from being a broken little girl to being a beautiful and influential speaker? I didn't have any of the answers, but I left that day with a nugget of hope.
And 14 years later, I would finally say aloud the words that brought light and healing into my darkness: "I was sexually abused as a child."
The speaker shared her brave words for the One who rescued her, and the brave words she shared pointed me to the Rescuer! I look back on that day and I am forever thankful.
I replied to my friend's email and admitted that I too felt that way sometimes and would get in a rut. I shared some of what He has been showing me:
Write for Him and the one.
Focus on Him and the one.
Sometimes that means not writing and spending time at His feet. Sometimes that means not writing and meeting or calling a person who needs encouragement instead.
Sometimes that means writing a blog post and trusting that there is one person out there that needs to read those words. They may never reply. They may never comment. You may never know what an impact one sentence or a few words had on their healing journey. But you do it anyway. For the ONE. For the one.
Because you remember, when you were the one.
And you are forever thankful to the one who said the brave words that pointed you to the ONE.
Write for Him and the one. Trust Him with the results. I tend to push publish faster when I think of it that way.
He left 99 for 1.
Maybe He's calling you to do the same.
Linking up with Kelly Balarie: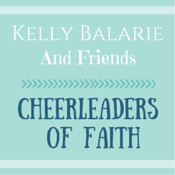 & Jennifer Dukes Lee