Looking for a sign to keep going?
All along my journey, there have been times where I simply wanted to quit and give up.
I have balled up my fists and with clenched teeth sputtered, "What is the point?"
It often happens when I am in position to do the next thing, and right before I move to take the next step, a strong wind of defeat and disillusionment will blow in and send me reeling in doubt.
Have you ever been there?

Sometimes it is the loud voices in my head that scream, "Who do you think you are?" You will never be like so and so. The comparison game ensues, and suddenly I and standing on scales that say: "Not Enough" and I feel alone and invisible.


At times, when there is no response or silence, it can be deafening and that also matches the message I am well familiar with: "Shhhhhhhhhhhhh." My voice shrinks and I wonder, "Why bother?"
Once when I was seeking advice full of hope and expectation, someone looked me in the eye and said, "No one wants to read about that or hear about that. It's too dark." Shhhhhhhhhhh.

Another time I didn't even get to finish my sentence and the conversation abruptly ended. Shhhhhhhhhh.
In these very raw moments, the SHHHHHHHHH is so loud in my head I vow to never speak about it again. As I am balled up in defeat, I can almost see the enemy doing a happy dance around me. And yet, I look up. And with mascara stained eyes and swollen lips I cry out to God, "Why?"
He meets me in these places, and tenderly cares to my wounds. He lifts my chin and reminds me I am like no other. I am His. He doesn't need me to look to the left or to the right to see how others are doing it or how they are responding to me, but to keep my focus on Him and Him alone.
As He takes my hand, I realize this isn't our first dance on the floor of doubt. Why can't I just get it? Why do I keep finding myself here wanting to quit?


Just recently, I met someone in person who had reached out to me via email after listening to my radio interview. We were able to spend about 3 hours together on a balcony facing the ocean, and dark things were spoken for the first time. Silence was broken.
Shame was exposed, and from now on it will meet truth and hope in the light of Jesus.
There was no standing ovation. No stage, no platform, no bright lights.
There were no retweets, shares or likes.
No agents, no publishers, no endorsements, no marketing, no deals.
Just a powerful moment shared alone, where the undeniable presence of Jesus was in our midst.


Early the next morning, as I was walking along the sandy shore I was strengthened as I sang praises in the wind. I came across a beautiful small pink seashell. In that moment, I decided to move forward and do the next thing that was making me afraid. It's risky, it's work and it would be so much easier to miss the deadline. But in the huge sea of sand, if it makes a difference and changes the life of one shell – it will be worth it.
When our eyes are focused on comparing ourselves to others, may we close them and focus on Jesus.
When numbers and stats overwhelm us, may we focus on the ONE who leads us to one.
When others say it's impossible, cling to Matthew 19:26 "With man this is impossible, but with God all things are possible."
When we think we are not good enough, remember He is with us and His power is made perfect in our weakness. (2 Corinthians 12:9)
You are not alone. Someone out there needs to hear your story. Someone needs hope. When you hesitate to press publish, or do the next thing – think of the ONE who will share it with the one, and go for it!
Walk in faith with your eyes and ears focused on Him, and trust Him with the results.
What is it that holds you back and keeps you doubting what He has called you to do?
How do you keep your focus on Him and His voice?
Has He given you a sign to keep going when you simply wanted to give up?
Linking up with Suzanne Eller: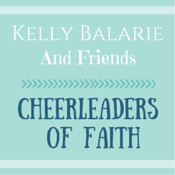 & Holly Barrett
& Jennifer Dukes Lee